Should online lessons be cheaper?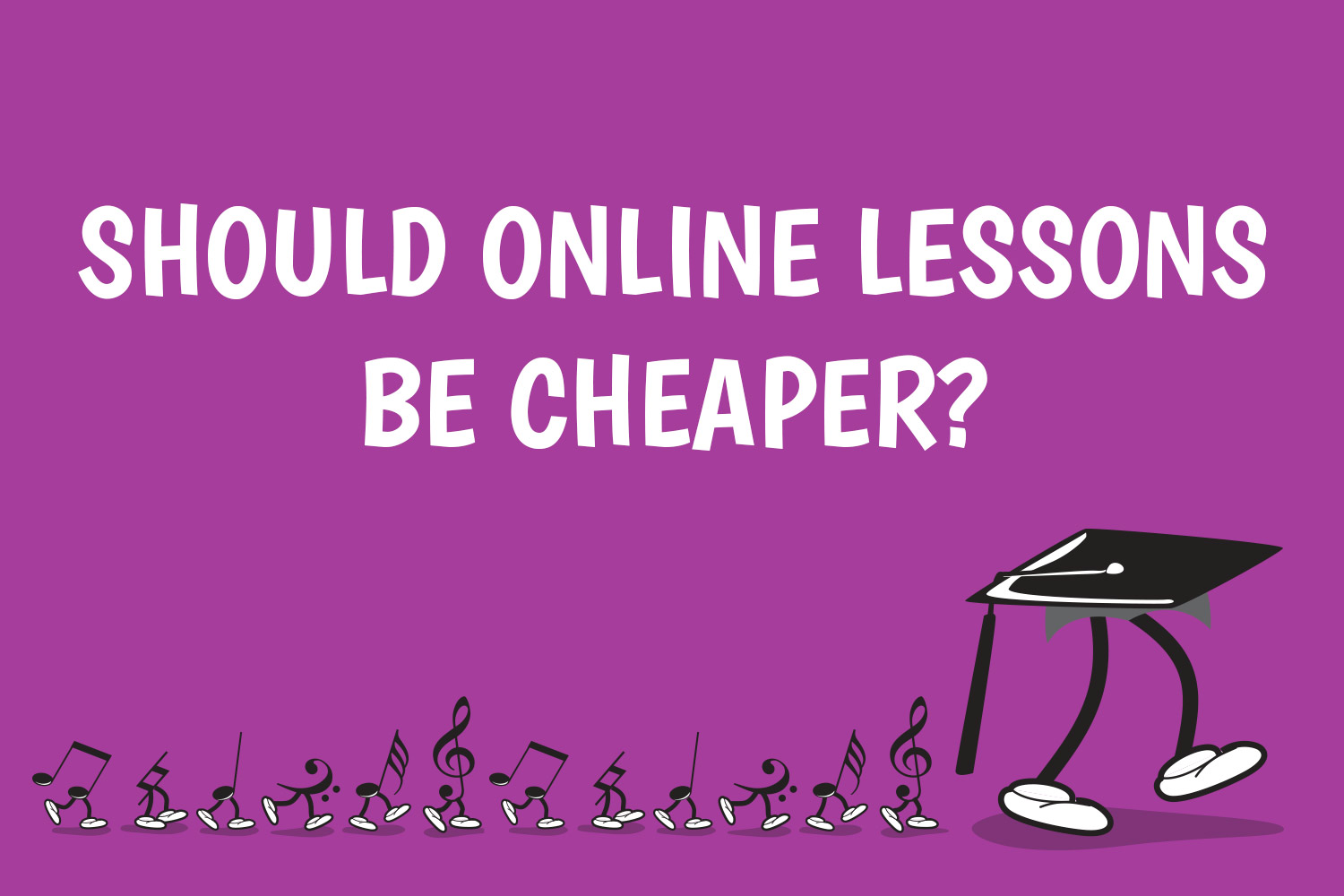 Please read this pre-blog disclaimer:
There are lots of studio families who have been caught up in the financial nightmare of COVID-19. I know many teachers, including myself, who have been helping these families by teaching students on scholarship or for free, as needed. That is not what I am talking about here.
This blog is about how we value our expertise, and whether it makes a difference in how that expertise is delivered. It's about how we choose to charge for our time. It's about whether we should choose to (or agree to) automatically discount lessons that are delivered online, regardless of the financial situation of the student.
A friend of mine has a daughter, who I will call Jane, who is a maths tutor. At the beginning of the COVID-19 crisis and when Sydney started its lockdown, Jane notified all her students that she would be teaching them online, and that she was reducing her prices.
I asked her why she decided to reduce her prices by default, without anyone asking her to. Her reasoning was that she thought the lessons would be less effective online. (Note: it was nothing to do with trying to help people out financially.)
When I asked her why she thought the lessons would be less effective, she said it was because she had never done online teaching before, and surely it wouldn't be as good as being in the same room. It didn't occur to her that she was still offering the same expertise, the same experience, the same service…. albeit through a different medium.
I have been thinking a great deal about this, because my own situation is different from Jane's. I had moved all of my teaching online, yet not made any announcement about discounting lessons. It has taken me a while to sort through my thought process on this, and articulate and justify things in my head… but I think there are three basic reasons why online lessons should not be discounted.
Reason no. 1: It sets a precedent
Imagine a contractor, doing a project for a big corporation, automatically discounts their fee during COVID because they can't attend in person. When the COVID crisis finishes, the contractor once again attends in person and restores their rates accordingly. It is no surprise when the company then says to the contractor, "actually, we will just stick with online consulting, since we'll save money that way".
I fear this is what will happen to Jane. In 3-6 months' time, when all face-to-face teaching has resumed, many of Jane's students may opt for the 'cheaper' online version of the lesson. These students will have detected little if any dip in quality of online lessons vs in-person lessons, and will simply opt to continue in a way that saves them money. And Jane will then be stuck on a lower income.
By automatically discounting lessons simply because they are online instead of in-person, teachers are making a rod for their own back. It will be very difficult to reinstate 'normal' lesson rates later on1. If it makes a difference to their bottom line, parents may end up asking to stay with these 'cheaper' online lessons.
Reason no. 2: Online lessons are not cheaper to run
The second reason I would not reduce the price of online lessons is because they are not cheaper to run. They are actually far, far more expensive to deliver, due to the cost of the equipment and the extra time spent preparing and following up. Parents are not aware of the money teachers have spent on equipment, subscriptions and PD to make it all run as smoothly as possible.
Since it is MORE expensive and MORE time consuming to teach online, the price for an online lesson should actually be HIGHER. By keeping rates the same, we are in effect already giving students a discount.
Reason no. 3: It sends the wrong message
And finally, there is a third and very important reason not to reduce prices of online lessons. By automatically discounting this mode of delivery, teachers are sending a message that their online presence is less valuable, and that is not a message we want to send.
None of us wants to be teaching wholly online, but we have no other choice. We are all getting quite good at it, and we are doing a fantastic job of making the most of this difficult situation.
The vast majority of studio parents do not understand the particular skills, activities and focus points that we have morphed in order to conduct successful online lessons. They do not know of the hours we have spent on webinars, doing courses, in social media groups, trying to cram in as much tech knowledge as possible, learning effective ways to reach students. We are in fact becoming MORE valuable as teachers, because we are adapting, understanding and delivering piano lessons in the best way possible for this environment.
So, in summary, should online lessons be cheaper?
No.
(I guess this blog post could have been much shorter.)
Post-blog disclaimer:
Just in case you didn't read the first bit, this blog is NOT discussing whether or not we should help families in financial need. Of course we should, where we can, and I know that the majority of us are doing just that. This blog is about the value of online lessons as compared with the value of in-person lessons.