Suzuki Training Chapter Two: The Repertoire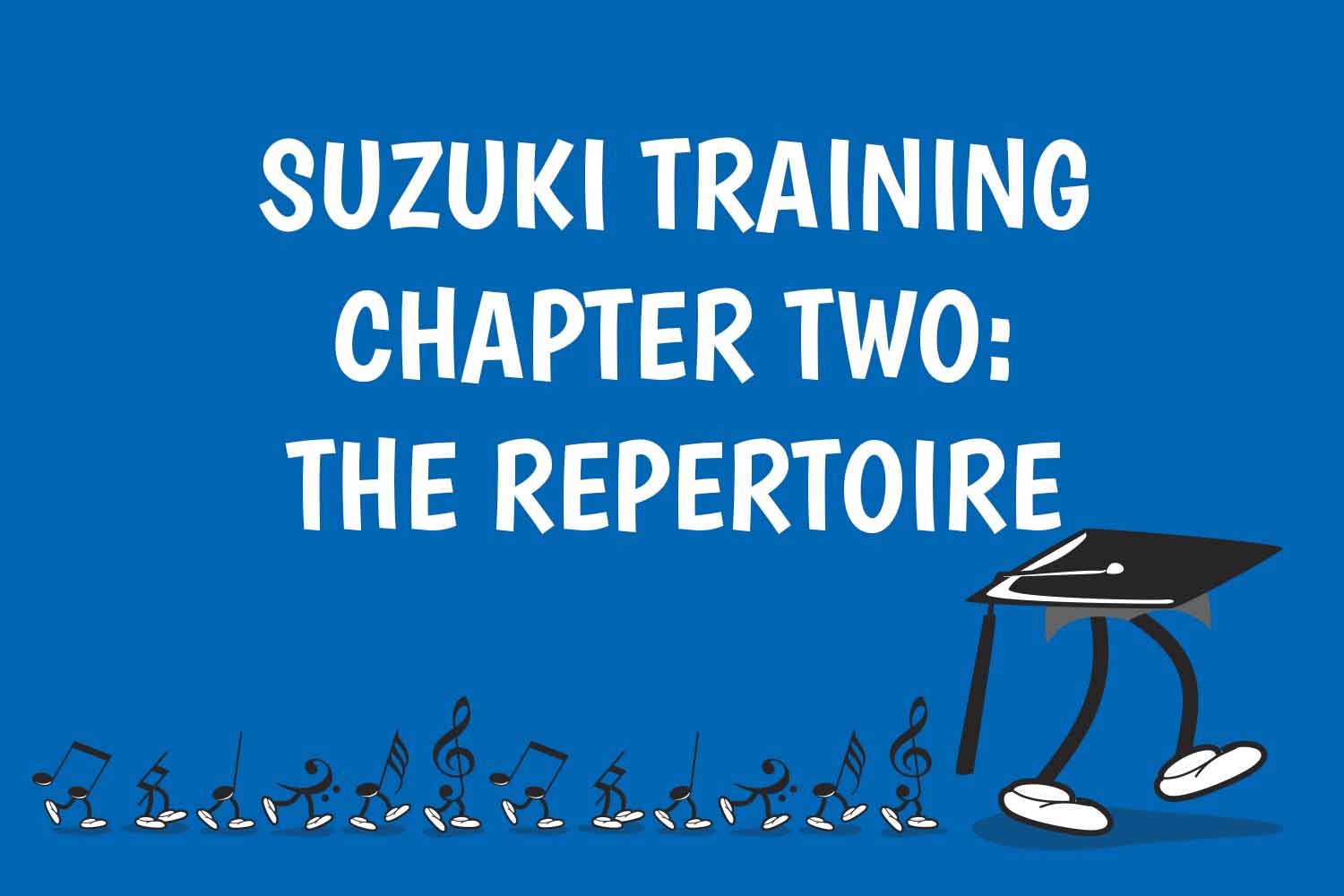 My seven Suzuki books arrived this morning! I couldn't wait to sit down to play through the pieces.
Over the years I have inherited the odd Suzuki student here and there and I've seen pieces from the books, but I haven't ever seen Book 1 nor had a look at the sequencing of pieces throughout.
I must admit, I did get a shock when I saw the very first piece in Book 1! It is a repeated semiquaver variation of Twinkle Twinkle Little Star – just like the first piece for the beginner violinists.
I am really not sure why this is the first piece for pianists. For violinists, I get it: it's the 'busy busy stop stop' bowing pattern, and the piece covers first position only (and that's about it for my knowledge of violin playing!). For pianists, it involves a difficult repeated note action, an interval of a 6th, and notes up high in the treble clef including a leger line (although given the Suzuki method revolves around rote learning and by ear playing, this last point is not so much an issue). I would think that for pianists, the first piece would involve BOTH hands and probably utilise a pentatonic tonality involving black notes. After all, these are the types of pieces that get young pianists really playing well, without worrying about reading the notes.
I am looking forward to further Suzuki training because I want to fully understand the philosophy behind the sequencing of all the pieces in the piano method. Being a traditional teacher AND a Yamaha trained teacher (working in solfege and ear training), I cannot imagine my beginner students playing pieces with Alberti bass in the left hand so early on in their careers.
Playing through the rest of the seven books, I found that I had played or taught almost every piece at some stage in my piano life. There is quite a mix of difficulty levels in each book, and as a result there is certainly no way to equate any one Suzuki book with any AMEB exam grade (which I think is a common error amongst traditional piano teachers) or in fact any piano syllabus I'm familiar with (ABRSM, Trinity, ANZCA).
The editions themselves are really well thought out in terms of fingering and articulation markings. The font is pleasant to read (but will students actually be reading it???) and there are excellent written-out versions of ornamentation.
The thing that struck me as I reached the end of Book Seven is that the furthest I had come in the history of music composition was 1945 – the year Bartok died. All of the Suzuki pieces are public domain, which means Suzuki students miss out on all the amazing music that has been composed in the last 70 years or so, as well as current music of course.
Perhaps it is up to the teacher to supplement with modern pieces? Will there be time in the lesson? Is this allowed? All this and more will become part of my knowledge base in the near future. Please leave a comment – I'd love to know your thoughts!